Office Partitions
Are you looking to create more office space? Look no further than our office partitions.
We have a variety of office partitions available and ones that will match your required wants and needs or maybe you require help with your space planning? Our team are more than happy to help and can arrange a site survey as well as a quote free of charge.
If you would simply like advice and information about office partitions we are always available to discuss your project and offer our expert advice. Your needs are our priority especially when it comes to budget. We have a wide variety of resources and manufacturers available to us and we will therefore work with you, our client, to find a solution to both your budget and your requirements.
We have an in house design team that can either help you create the office partitions that we feel might suit your space best or we can turn your potential ideas and put them on to paper in 3D so that you can truly visualise what your ideas will look like if they came to fruition.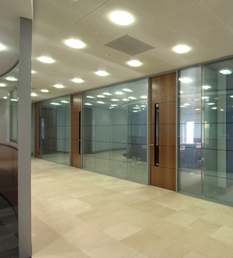 Here at Innovate when we set out on a new project involving office partitioning we ensure that the clients are completely satisfied and they are happy with the spacing. We want to ensure that the project is economically beneficial and provides the best solutions for all our clients. We cover a large range of partition specifications, from temporary wall lining that can be re-used in a warehouse to permanent fixings in an operating theatre. All of our Office Partitions are tailor-made to match our client's request.