Suspended Ceilings – Unique Designs with Innovate Projects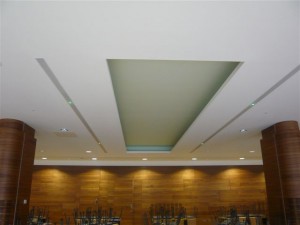 We have spent a number of years building up an excellent reputation in designing and installing suspended ceilings. Whatever you require in terms of suspended ceilings, with our specialist teams we can create and design a ceiling that matches your taste and requirements.
There are many different reasons to want to install a suspended ceiling, we have access to a wide range of products so whether it is for fire rating purposes, acoustic reasons, moisture resistant ceiling or you need a hygienic ceiling; we have the experience and knowledge to help ensure that you have the right design and requirements installed.
We have installed a number of suspended ceilings in hospitals, universities, museums and shopping centres. One of our favourite jobs was at the Sherfield Building, Imperial College, where we installed a split level suspended ceiling with concealed lighting rafts using featured areas of metal ceiling tiles and to make it a greater challenge we were working to a very tight schedule but still finished in a timely manner. For more examples of our work check out our image gallery and our recent projects section.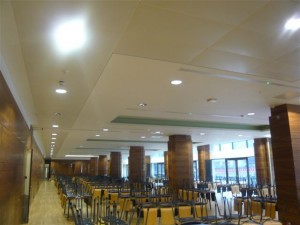 Whatever you or your companies requirements are, we would be happy to work with you, and come up with a solution together. Depending on your work schedules and budget we can design and install a suspended ceiling to suit you completely. Many of our clients find it easier for us to work out of normal working hours so it doesn't disrupt there working day, which is something our teams are used to.